Doll of Legend Home page
Each of these Mummer style dolls are over 10 inches in height, both are hand made. disclaimer:Neither doll is an exact replica of any particular Mummer in any of the string, comic, fancies etc. No one costume has been copied and each Mummer group holds ownership of their costume style. We are in no way affiliated with the Mummers.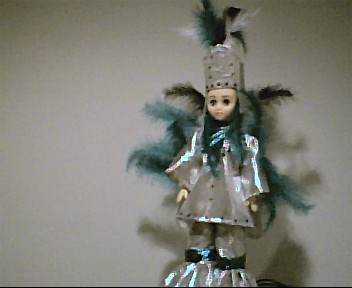 these dolls sell individually at $99.00 each plus S&H porcelain versions, with fabric variation etc, are available at $225.00 each plus S&H and insurance
an
endearing
Phillie
Memory;
THE
MUMMERS!
ANYONE who ever lived in and around Philadelphia has fond memories of the great Mummers. The colorful themed costumes, the string bands! These Mummer representations are over 10" in height and are dressed in hand made costumes, they come with stand and banjos. You can almost see them marching now can't you? price:$225 each, S&H and stand included!